3 Best Online Marketing Strategies for Small Businesses in 2023
updated 1/14/23: If you are a small business owner, I am assuming that you have read some blogs and watched a few Youtube videos in the past related to online marketing for small businesses. I'm also guessing that you've tried a few things that you learned. Some may be more successful than others, as they might not have brought you the results you were expecting.
We meet business owners like you every day at Marketing House Media LLC and we understand your curiosity to learn how to grow a small business online. And we are going to discuss more on that in a bit.
We could share hundreds of different online marketing strategies and case studies but we don't want to overwhelm you and put you into paralysis analysis. To make things extremely easy for you, we have narrowed down, and handpicked 3 of our favorite strategies that will definitely help in building a stronger presence for your business and drive more sales in 2023 and beyond.
Three Effective Online Marketing Strategies for SMBs
Local SEO refers to a set of strategies that focuses on increasing the visibility of a business on search engines like Google, specifically for searches that are local in nature. In short, Local SEO helps people living in your city and nearby discover your business when they are looking for something that you offer.
If you have a business that serves locally and were to pick just one strategy from this article, we recommend Local SEO. The reason is that it helps your business show up in places where the buyer intent is high.
For example, if someone searches "hair salons near me" or "hair salons in birmingham mi" then it is very likely that they are wanting to visit a hair salon nearby. Imagine how much new business a hair salon can drive if they appear on top of search results for such lucrative search terms (also known as keywords).
Two things you should begin with when focusing on Local SEO are:
Google My Business is a free service from Google that helps you create a local presence on Google. This helps your business show up in the local map pack, the 3-4 map listings that are shown on google search results for searches that are local in nature. Example:
And, while it is free to set up a GMB, not everyone knows how to set it up for success.
If you already have a GMB profile, start by doing the following:
1. Fill in all the basic information about your business. Examples would include official name, description, working hours, phone number, address from the GMB dashboard. And make sure you verify the listing so you can have full control over your business listing.
2. Add your products and services to the listing along with areas you serve (if you serve more than one area).
3. Make sure to post on google my business regularly to increase search visibility. At least once a week, as posts only stay on google for 7 days each.
4. Getting your customers to review you on Google should be a top priority. To make this task easier, set a short name for your GMB from your dashboard which gives you a short g.page URL that you can put inside a QR code so customers can scan and review your business instantly.
To learn more check our Google My Business Growth Strategies article.
Your website is an asset that you can control, unlike profiles and pages on Facebook, Instagram, LinkedIn, etc. So, it's in your best interest to optimize well for local keywords. A good website also helps in ranking in the local pack as Google uses the content that is on the website to show results on google search and maps. Example:
Detailed screenshot of how when searching for Kartell Furniture, the information from the website is pulled into the SERPS within Google.
Some of the methods you can use to optimize your website for local searches are:
1. Adding business schema markup to the pages and posts that mention your business.
2. Create local content that is targeted towards local searches.
3. Make sure your meta tags, like title, description, etc are optimized for clicks.
4. Keep your NAP (name, address, phone) up to date on your website, GMB, and other places on the internet like local directories.
If you are looking for experts who can handle all of your Local SEO needs, then reach out to us at Marketing House Media, LLC and we can plan out a strategy that is tailored to your business needs.
Here are just a few of the results that our clients have got from our Local SEO services: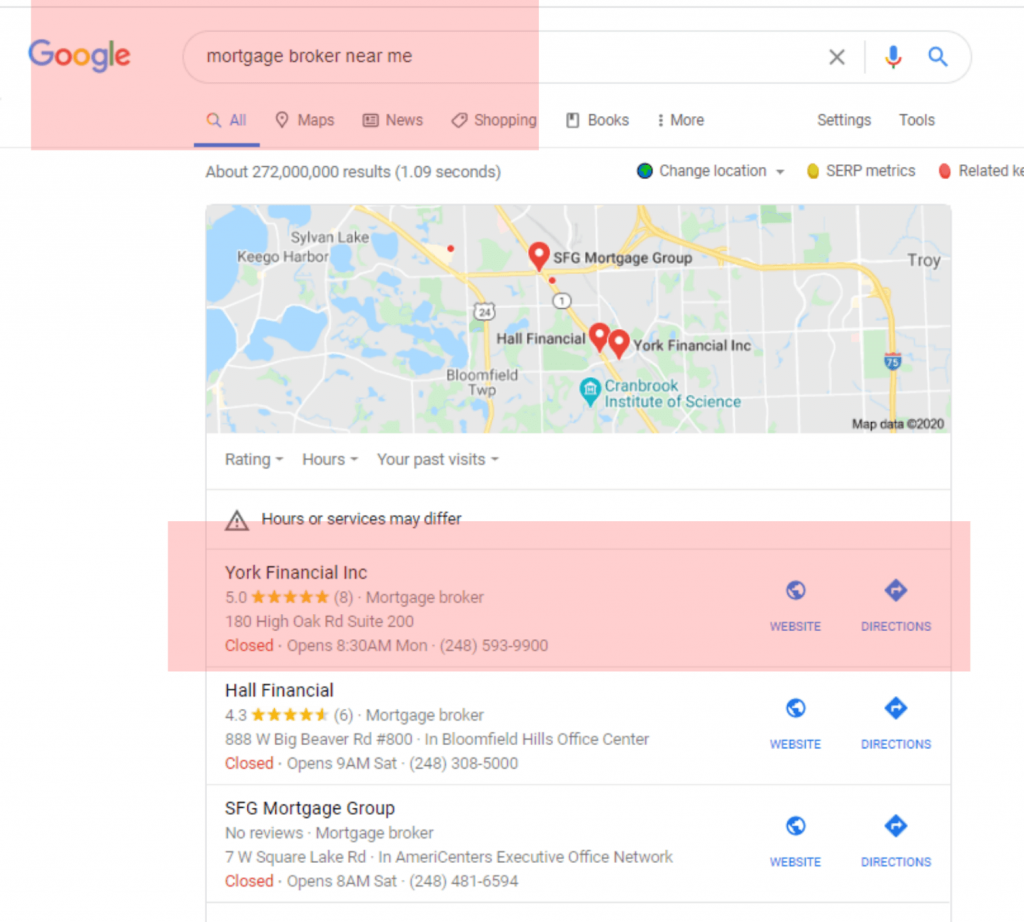 2. Utilize LinkedIn for Promoting Business
LinkedIn is a social network that is often overlooked by small businesses when it comes to marketing their company. If you include LinkedIn in your marketing strategy and use it well, you can generate more leads and grow the authority of your business. If you find yourself putting this valuable tool on the backburner, consider the following information:
"LinkedIn has over 722 million users and more than 50 million businesses on its platform."
Another reason to invest your time and efforts in LinkedIn is it gives you way more organic reach than other top social media platforms like Facebook, Twitter, etc. On LinkedIn, your post does not get outdated after a few days, instead, it gets pushed to an interested audience even after a few weeks, so you keep getting engagement and new leads if that's the goal of that post. This is the power of a good content strategy on LinkedIn.
And remember, this is not here to stay. As more people join LinkedIn and actively post good content, the LinkedIn algorithm will eventually go through the same change that other platforms went through, and organic reach will decline significantly.
So, while the opportunity is still in front of you, grab it with both of your hands, and use it for your good. Setup your LinkedIn profile and business page well, build your network and post content that is useful to your potential clients and you will be on your way to opening a new source of leads.
3. Facebook Groups (It Still Works)
You might have heard lately that Facebook is dead, but in reality, that's only one side of the coin. Most people who are saying that Facebook is dead are referring to its organic reach. And we agree with that fact as well. Today you must pay Facebook to run ads to people who are already following your page. But let us talk about the other side of that coin. The side that is still quite underrated.
We are talking about Facebook groups here. They act like a forum that lives inside the Facebook ecosystem. There are thousands (if not millions) of Facebook groups that are strictly moderated and contain only people who are interested in a particular niche. Many of these groups consist of your future customers, you just need to leverage it well.
The strategy here is quite simple, and that is – provide value upfront and stay active in groups where your potential customers hang out. These could be local groups, business groups, etc. Just do not post spam in the comments. Another tip is: make sure your Facebook profile is well optimized and has at least one call to action. People do recognize the profiles of those who are regularly helping others. And those who are sharing their views and pointing to valuable resources, etc. A lot of people also check profiles of such active group members. Therefore, it is important to have at least one CTA that points them to your business website or page, or an eBook, or messenger for a free sample/demo of a product, etc.
Hope you take action on some of the suggestions mentioned in this post and grow your online presence and sales. If you are overwhelmed by it all or just too busy and want to put it in the hands of experts, get in touch at 248-509-5518. We will be happy to offer a free consultation to identify the best strategy for your business.
248-509-5518