Social Media Strategy
Open Your Business To New Relationships
Social media has become a significant part of our daily lives. Studies reveal that Americans alone spend more than 4 hours per day on social media networks.
Due to the impact social media now has on traditional marketing, it is essential that you get on board with these resources.
Besides increasing brand awareness and offering a new platform to cultivate personal relationships with your customers, social platforms provide the perfect stage to test new products, ideas and innovations, as well as provide a precise method for targeting your ideal customer.
Internet Marketing
We know how overwhelming the whole idea of Internet marketing can be and how time consuming it is to build a social base. Our company specializes in cultivating the relationship of small to mid-sized businesses and their internet presence and brand recognition.
Company Set Up
We'll get your company set up with the appropriate social media strategy that would be most effective for your business.
Let's Get Started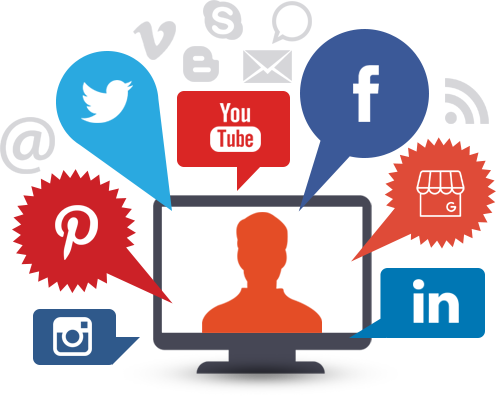 Social Media Marketing
Let's Get Social
Posting interesting and informative content to Facebook, LinkedIn, Instagram, Twitter and other social media platforms will keep your audience engaged and keep you on their mind.
Many internet marketing firms use automated systems to post the same content across the board; this isn't the best practice because each platform varies in the way it interacts with your audience.
We do things differently at Marketing House Media, we cultivate personal relationships between you and your prospects.
We do all the posting for you, specific to each platform. We'll update your social media profiles regularly throughout the month with engaging content that builds relationships.
There's no question that social media marketing can be a powerful tool for businesses. When used correctly, social media can help businesses to connect with potential and current customers, build brand awareness, and generate leads and sales.
However, social media marketing can also be a minefield. With so many different platforms and strategies to choose from, it can be difficult to know where to start.
That's where we come in. At Marketing House Media, we specialize in social media marketing. We'll work with you to create a tailored social media strategy that meets your specific business goals.
We'll then build and manage your social campaigns, ensuring that your online presence is strong and consistent across all platforms. With our help, you can make the most of social media and use it to achieve your business goals.
Some of our Social Media Services:
Consultation and Analysis
Managing your social media campaign, leaving you free to focus on other areas of your business. (on a daily, weekly or monthly basis).
Posting and updating Blog content so it's always fresh & relevant.
Connect your website to your Facebook page so that new items added to your website will automatically post to Facebook (and/or another social platform).
Content strategy and creation across multiple outlets.
Social media advertising via popular networks.
Set up Google and other Analytics, providing trackable results so you can see how your customers engage online.
Customized social media plans also available. We can develop the right program for you.
FACEBOOK
Facebook has been labeled as the world's most popular website with over 1.3 Billion users. Over 75% of Facebook users log on every single day, and those users are very active.
INSTAGRAM
Instagram is meant for use on mobile devices, and users tend to use the network all the time, any time — but unlike Facebook or Twitter many users engage with Instagram more during off-work hours than during the workday.
GOOGLE BUSINESS PAGE (GMB)
If you have a business, you should have a Google My Business Account. It's that simple.
Google is the world's #1 search engine, and this isn't by a small margin. Google trusts and prefers it's own platforms and tends to present those first in search results.
LINKEDIN
LinkedIn is a great platform if you're marketing to other businesses and professionals.
PINTEREST
Pinterest helps people find creative ideas. That's why so many businesses, especially retailers, have focused more of their marketing efforts on the platform.
TWITTER
Twitter is a micro-blogging platform that offers social and brand interaction. While most Facebook users will stay connected to the site for an average of about 1 hour per visit, Twitter users operate in smaller, more frequent interactions throughout the day.
YOUTUBE
YouTube has revolutionized the Internet's interaction with video. This social media platform pulls in more than 2 billion viewers per day, with reach around the world.
SNAPCHAT
If a picture is worth a thousand words, then having a snapchat account is a must.
We offer very affordable campaigns that can be adjusted to fit your needs. Our goal is to make marketing your business in this digital world, simple and successful.
We also have great plans and programs for building a responsive (mobile and tablet compatible).
PRICING
Social Media Service Packages
One Social Media Platform (Generally Facebook or LinkedIn)
Two Social Media Platforms (We will evaluate your target market and help you decide)
Three Social Media Platforms (We will evaluate your target market and help you decide)
Contact Us
We'd Love to Hear From You. Let's Work Together.